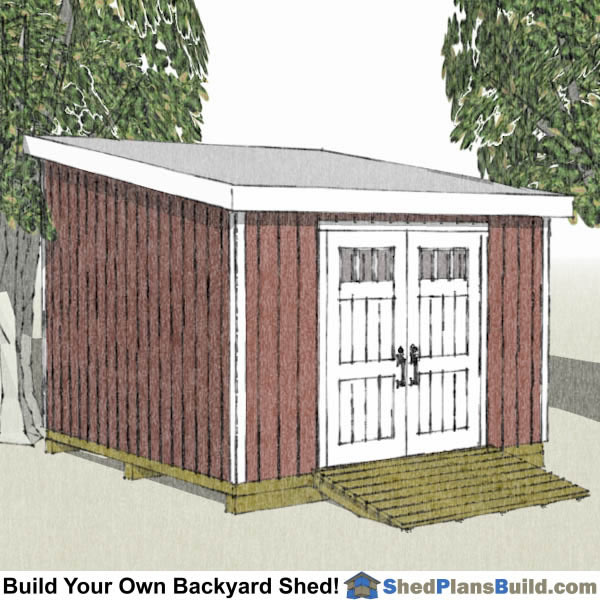 12x12 Lean To Shed Plan
sku (shed12x12-LT)
Emailed Plans: $19.99
(8 1/2" x 11" Emailed PDF
Postal Mailed Plans: $24.99
(8 1/2" x 11" Postal mailed)
Buy E-MAILED Version of Plans

Buy POSTAL-MAILED Version

How To Build A Shed eBook included with every shed plans purchase.
Instant download - The shed plans are emailed to you so you can start immediately.
Materials List - Easily get bids
Easy To Build From - Professionally drawn. See example below.
More images of the 12x12 Lean To Shed Plans
12x12 Lean To Shed Plans Include The Following:
Materials List: The shed plans come with a complete materials list that is broken down by parts of the shed.
5 Foundations: The shed plans include plans for a wood rail foundation, concrete slab, poured pier, concrete block pier, treated wood on crushed gravel.
Floor: 2x6 floor joists with 3/4" floor sheathing.
Walls Framing: 2x4 framing at 16" on center with a double top plate, just like a home is framed.
Wall Height: The shed wall height is drawn to 7'-7" for the short wall and 9'-6" for the tall wall.
Door: Home Built Door or Factory Built Doors

Door Size - 6'-0" x 6'-8"

Siding: T-111 exterior siding. Other sidings such as vinyl or cement based sidings may be used.
Roof: The roof is framed using 2x8's to build the rafters. It is sheeted with 1/2" O.S.B. The plans give you the dimensions and cut angles so you can build the roof rafters on the ground and then put them up on the top plates.
Roof Pitch: 2/12, this means that for every 2 inches of rise there is 12 inches of run horizontally.
Roof Overhang: 6" on the sides and 6" on the front and back.
Roofing: Low slope PBR metal roofing or 25 year asphalt shingles using the manufacturers low slope installation instructions.
Windows: No windows shown on plans but you can install windows using the instructions in the included How To Build A Shed Manual.
Trim: 1x4 and 1x6 wood, masonite or cement trim materials are used to finish the corners, roof eves and facia, and door.
Floor Load: 50 pounds per square foot for framed floors. You don't want your shed floor to feel spongy.
Roof Snow Load: 40 pounds per square foot. This is more than adequate for most areas. If you live in an area with a high snow load you should check with your local building department for your local snow load. A stronger roof can be constructed by installing the roof rafters at 16" on center and / or using 5/8" O.S.B. instead of the specified 7/16".